Bitcoin (BTC) Price Prediction: BTC/USD Consolidates Above $45,000, Further Upside Is Imminent
Bitcoin (BTC) Price Prediction – February 10, 2021
Bitcoin bulls have finally broken the $40,500 resistance. This was made possible by jumping above the resistance at $38,000 and $40,000. Today, the market has retraced to $45,000 after hitting the high of $48,000.
Resistance Levels: $48,000, $49,000, $50,000
Support Levels: $35,000, $34,000, $33,000
From the daily chart, there is the presence of a Doji candlestick after the price spike on February 8. The candlestick is indicating that the uptrend is losing strength. Buyers are unable to continue with the uptrend as sellers emerge to push prices down. As bulls fail to sustain upward, traders are likely to book profits at higher price levels. Meanwhile, BTC price is at level 74 of the Relative Strength Index. It indicates that Bitcoin is in the overbought region of the market. The king coin has no enough room to rally on the upside.
Bitcoin Is Not a Bubble Anymore, by Amber Group CEO
Michael Wu is the CEO of the digital asset financial services outfit of Amber Group. He does not believe that Bitcoin has been a bubble since its inception 12 years ago. According to him, he said: "I think it's always like this when people come into a new paradigm shift, Wu said in a CNBC interview on Thursday, referring to the concept of Bitcoin as a bubble. People start with doubts, with skepticism — it's very natural because they will have to take time to understand what's new there, is it sustainable," he said, adding: "In the early stage, that kind of understanding, that kind of skepticism, always comes with a lot of price volatility. However, I don't think you can call Bitcoin a bubble anymore, because, as I mentioned earlier, you have all these institutions, all these billionaires, multi multi-billion-dollar listed companies, all these, you know, all these newcomers into crypto. They're buying Bitcoins, they're buying crypto and there are only 21 million Bitcoins out there."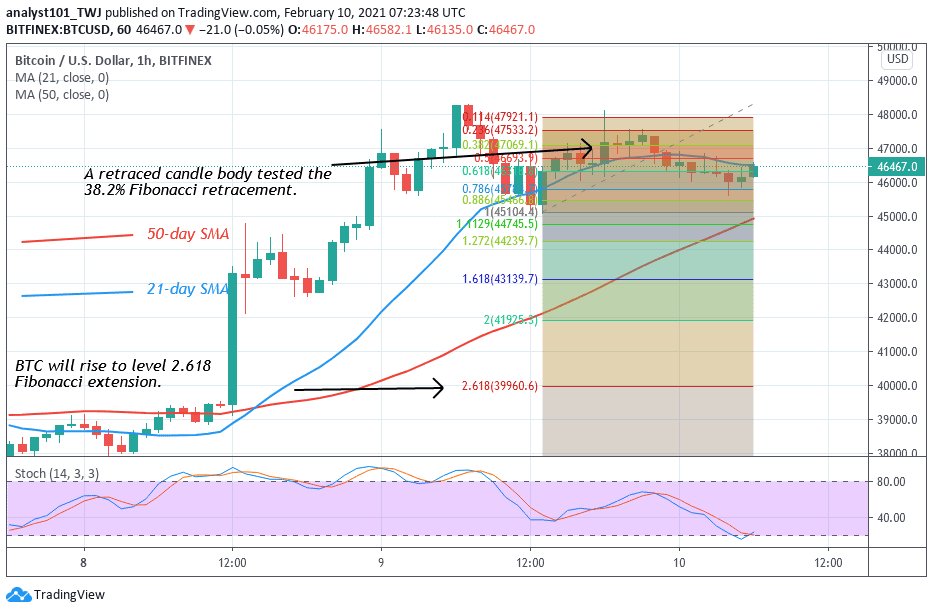 Nevertheless, Bitcoin is currently retracing after hitting the $48,000 high. The crypto currency has retraced to the support above $45,000. The upward move will resume if the support at $45,000 holds. However, if the support cracks the Fibonacci tool analysis will hold. Meanwhile, on February 8 uptrend; a retraced candle body tested the 38.2% Fibonacci retracement level. The retracement level suggests that BTC price will fall to level 1.272 Fibonacci extension or the low of $39,960.60.