Ethereum Jumps 6% as Crypto Bulls Shake Off Rate Fears BCH, TON, XEC, Sep. 18
ETH
Ethereum posted a gain of 6.4% as the crypto market bulls managed to send the broader market higher.
The world's second-largest crypto project has also recently been involved in some development upgrades.
A year after Ethereum's Merge upgrade, some analysts are worried that the staking feature could affect the ETH network. Around 20% of 20% of all Eth in circulation, valued at about $41.5 billion, has been staked, according to Staking Rewards data.
At the current pace, that number could rise to 50% by May and 100% by December 2024, according to a paper written by Tim Beiko, who assists in Ethereum development.
"We all like up-only, but not when the safety of Ethereum is at stake," according to co-author Dapplion. The worst-case scenario is for a shortage of Ether to make transactions on the network. Developers are now looking to address the issue. On 14 September, the developers agreed to limit the number of new validators, allowed to join the network every six minutes. That change will be added to the next ETH upgrade later this year.
"We want to slow it down a bit to buy us some time," Matt Nelson, product manager at Consensys.
With staking achieving "unprecedented success, beyond the original intended targets of stake rate," the paper said, developers may look at adjusting validator rewards "to discourage staking past a certain point." Crypto project Lido holds around 33% of the ETH staking market share.
"A knock-on effect is that it enshrines current staking providers," said Jim McDonald, chief technology officer at Attestant, one of the largest Ethereum staking providers.
Ethereum's gains were part of a broader rally as crypto projects managed to shake off a rise in U.S. ten-year treasury yields over 4%. That was based on inflation fears after oil prices surged above $90.
BCH
Bitcoin Cash (BCH) managed to eclipse the price gains of BTC this week with a 20% gain.
A consortium of financial service giants, led by Charles Schwab and Fidelity, started a new crypto exchange in June called EDX Markets. The platform has support for cryptocurrencies which included the hard fork of Bitcoin. Investors are eyeing the potential for BCH to attract institutional investor appetite.
Further potential for Bitcoin Cash adoption was seen with PayPal's partnership with the Ledger hard wallet which will allow PayPal users to buy cryptocurrencies via Ledger's wallets, including BCH. 
PayPal, which has 400 million users, launched another crypto initiative last week with the September 11 announcement of on-and-off ramps for Web 3.0 payments. The new upgrade would allow users in the U.S. to convert their cryptocurrencies into fiat currencies directly via Paypal wallets.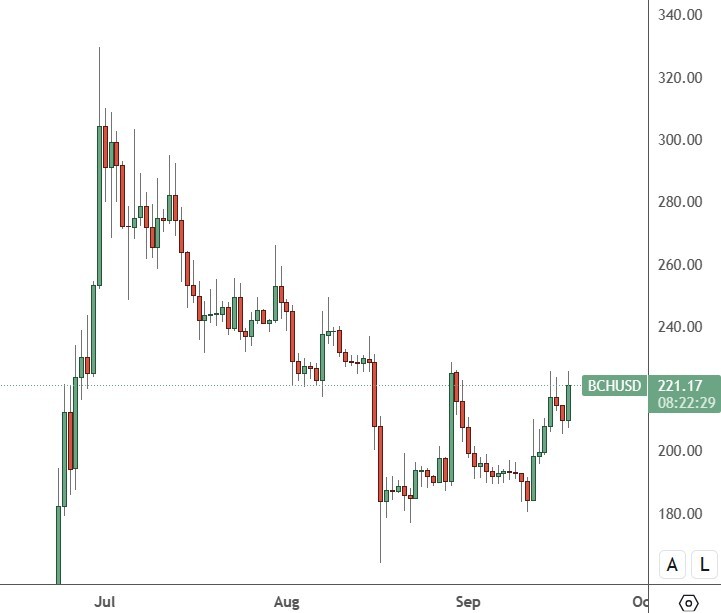 Bitcoin Cash has mounted a rally from around $175 to trade at $221.
TON
Toncoin (TON) was the crypto market leader this week with a 47% surge over the last seven days.
The rally in TON rocketed the coin into the top ten projects in the crypto world. The token is a native to the popular Telegram messaging application and news this week boosted the price of TON.
Analysts attributed the altcoin's success to the recent unveiling of TON Space by Telegram. The 13 Sept. announcement revealed that TON Space, a Telegram application feature, will provide access to a cryptocurrency self-custody wallet for its big user base of more than 800 million users. 
The announcement also increased investor appetite as users believe it will lead to increased adoption of the Toncoin. Investors were looking for good news after the project had a previous collision with the U.S. Securities and Exchange Commission (SEC). The SEC accused Telegram of offering unregistered securities in the form of a token known as "GRAM".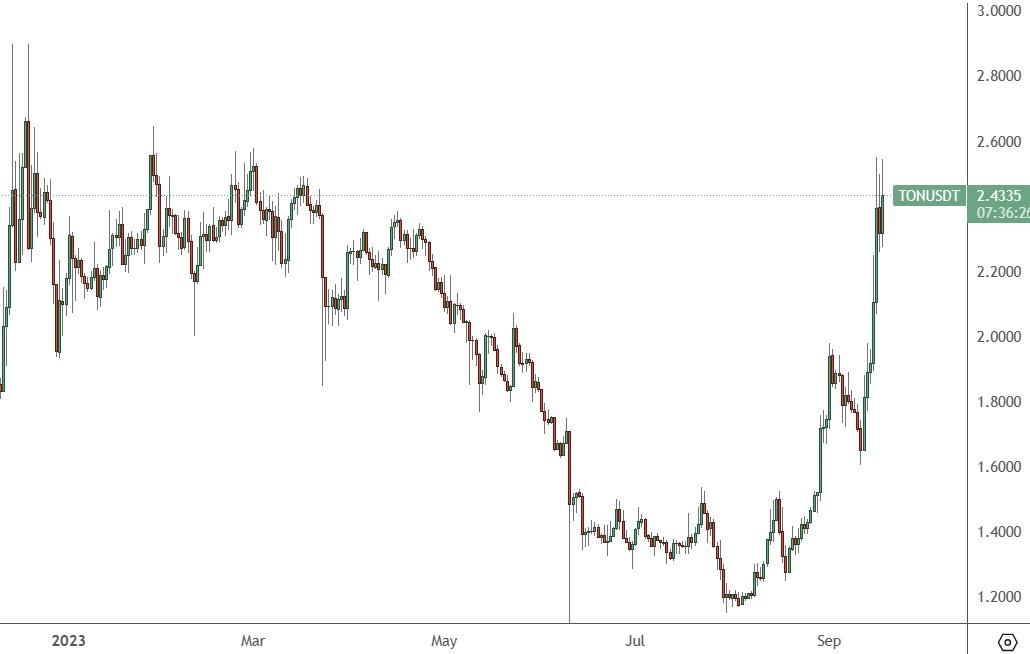 Ripple XRP's recent court wins over unregistered securities will also have pleased investors in TON. The price of TON has risen to $2.40 and is reaching the all-time high of around $2.80.
XEC
eCash (XEC) was another top project banking a 20% gain this week.
The coin is a rebranding from the Bitcoin Cash ABC (BCHA) token and followed BCH higher this week. 
eCash is designed to be a means of transaction being used to pay for goods and services. The coin was rebranded on July 1, 2021, and has attempted to distinguish itself from its predecessor. eCash has base units named "bits" that are designed to replace the long decimal places of Bitcoin Cash ABC. Users can send 10 bits of eCash, instead of sending 0.00001000 BTC.
The protocol uses a proof-of-stake (PoS) consensus layer called "Avalanche," which is not affiliated with the crypto project Avalanche (AVAX). Following the rebranding, eCash said it would convert all BCHA coins to XEC at a ratio of one to one million.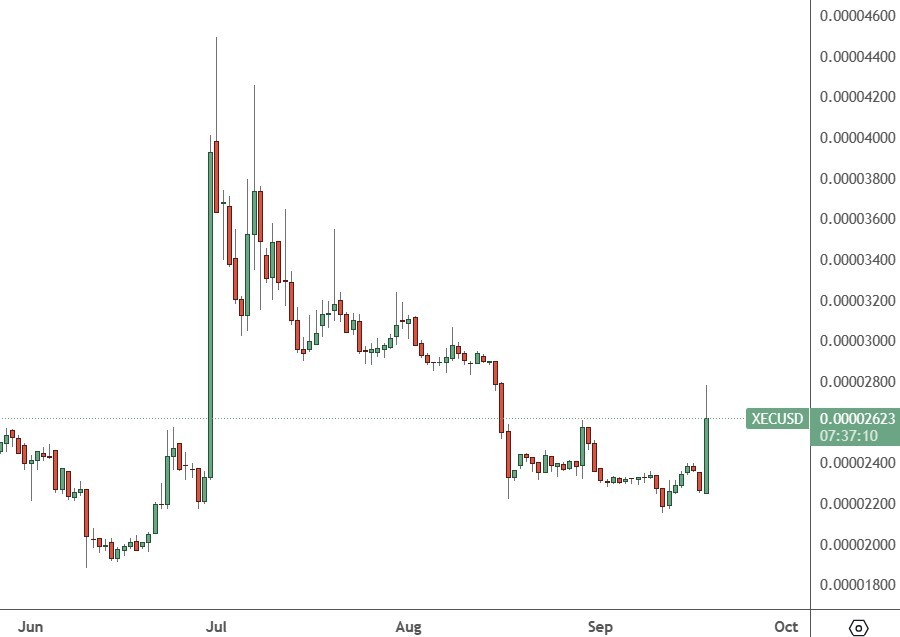 XEC has seen a strong rally last week and has room to gain further upside from this bottom.